Rope park for the children's center, Artemovsk 2016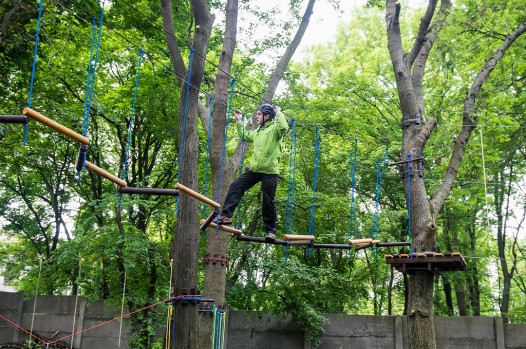 For rehabilitation and health center "Mother and Child" in Artemovsk we built
The program of treatment and rehabilitation of children in the health center now includes wellness sports in the fresh air.
A total of 17 rope competitions.
Children's trail on 9 competitions, located at a height of 30 cm from the ground level does not require additional protection for the passage, suitable for children from 3 years.
Adult trail on 8 competitions located at a height of 4 m is suitable for adults and children from 8 years.
Two Zip line  35м and 50 m.
The total route length – 173 m.
Execution of "Rainbow" + "Pine-Rosewood" – the original design and bright competitions.
System climbing protection through carabiners.
urban parks, recreation centers, summer camps, recreation centers