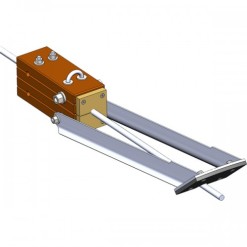 Brake System Krok "Stop Absorber"
Product ID: krk 08374
| | |
| --- | --- |
| Weight | 6,1 кg |
| Rope diameter | 10 - 14 mm |
Delivery
Delivery is carried out by the transport service DHL. Worldwide delivery in 220 countries. Shipping is paid separately.
Warranty & Certification(s)
All products have international certificates and a warranty card from the manufacturer.
Brake System Krok "Stop Absorber"- allows to stop even the fastest and heavy pulley Zip Line. Designed specifically for use on inclined trolleys (ziplaynah) – high-angle cross to the steel cables.
Brake unit "Stop-absorber" of the most popular and universal element of brake systems in trolleys with medium and high speeds. It can be integrated into the system with the elastomer, counterweight, launching appliances (SU), and so on. D. Read more on how to stop can be found on the cable car in the article "Methods of braking / stopping in the trolleys."
Brake unit "Stop-absorber" is made of four interchangeable oak planks strapped with two vzaimonapravlennyh steel U-shaped brackets and screw the relevant nuts.
The tops of staples form a lug for attaching the brake unit to the brake damping system.
Both are equipped with a brake block end damper pads that prevent the gradual deterioration of the block in collisions with pulley. Failure of one pad – you just have to turn the other end of the tandem unit towards the place of the collision.
Braking unit for cable trolleys "Stop-absorber" can optionally be equipped with a bracket-catcher (two sizes), which prevents reverse the course of the carriage on the cable after the collision. This collector trolley is very important for the trolleys, the arrival of which is arranged on a raised platform or located on a small platform, suitable for gathering users trolley (for example, on the shore line near the outline of various bodies of water or on the ground near cliffs).
Brake unit "Stop-absorber" is compatible with trolleys cables with diameters from 8 to 14 mm. Under the order probably manufacturing of brake unit for thicker cables.
Specifications
Dimensions:
Length: 200 mm
width: 75 mm
height: 88 mm
Weight: 1.75 kg