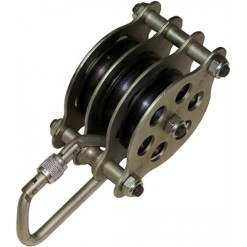 Krok three roller pulley block
Product ID: krk 02403
| | |
| --- | --- |
| Weight (g) | 1,93 кг |
| Material | duralumin |
| breaking load, kN | 40 |
Delivery
Delivery is carried out by the transport service DHL. Worldwide delivery in 220 countries. Shipping is paid separately.
Warranty & Certification(s)
All products have international certificates and a warranty card from the manufacturer.
Block roller to facilitate the efforts to raise the cargo and increase the coefficient of performance (COP) in polispastnyh systems.
Used with rope diameters up to 14 mm.
With long-term use with steel cables necessary to manufacture special cable drum for a specific diameter of the cable.
Efficiency roller increases with the inner diameter of the roller pulley stream, decreasing the rolling friction and reduced operating voltage cable bending (ropes).
And the value of the latter depends on the ratio of cable diameter to the diameter of the pulley, the cable stiffness, arrangement of strands, and even the profile of the pulley grooves.
To determine the efficiency necessary to experimentally find the ratio of the weight of the lifted load to the driving force. For the same video using different cables efficiency will be different.
Pulleys and cheeks block rollers are made of steel or high-strength aluminum alloy, and the axis – of high-heat-treated steel.