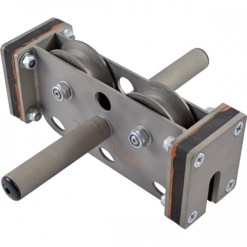 Pulley Krok Zip Line Turbo
Product ID: 2251
| | |
| --- | --- |
| Working Load Limit | 25 кН |
| Weight | 3,7 кg |
| Rope diameter | 10 - 14 mm |
Delivery
Delivery is carried out by the transport service DHL. Worldwide delivery in 220 countries. Shipping is paid separately.
Warranty & Certification(s)
All products have international certificates and a warranty card from the manufacturer.
Pulley for Zip Line Turbo – designed specifically for use on inclined trolleys during long descents at high speeds.
Elongated body pulley stabilizes the exchange rate stability of movement during the descent.
Increased rollers, each equipped with a pair of ball bearings provide minimum rolling resistance and allow to develop during the descent much greater speed than conventional tandem carriages.
The large diameter roller carriage Zip Line Turbo reduces the vibrations arising in the rolling rolls over bumps of twisted strands of steel wire rope.
And enlarged flange heat-treated rollers reduce wear on the rollers of the stream after prolonged use on steel ropes.
However, these above-mentioned properties significantly reduce wear of the trolley the whole system as a whole.
Both ends of the tandem carriage damper fitted with plates that prevent the gradual deterioration of the carriage when hitting the brake unit. Failure of one pad – just turn the other end of the tandem unit in the direction of the brake unit. A geometric dimensions Zip Line Turbo is compatible with standard frame karetkoulavlivatelya brake unit from TM "Krok".
The presence of several independent spaced attachment points on the housing pulley provides a wide range of suspension options for descent: laying, sitting, in a pair, etc. And the opportunity to complete a pulley with special handles allows the user to hold their hands during the descent…
Attachment hole into the top of the pulley unit allows connection to the anchor block duplicate belay line.
Pulley Zip Line Turbo used for trolleys with steel cable diameter from 10 to 14 mm. On request is possible to produce a tandem for thicker cables.
Specifications
Maximum workload WLL holes. (Working Load Limit): 25 kN – the beginning of the auxiliary loop holes strain on the cheeks tandem
Breaking load MBS holes. (Minimum Breaking Strength): 40 kN – the destruction of the connecting holes tandem
Overall length: 240 mm
Width without arms: 80 mm
Width with handles: 270 mm
Housing height: 120 mm
Roller diameter: 52 mm
Weight: 3.7 kg