Tree houses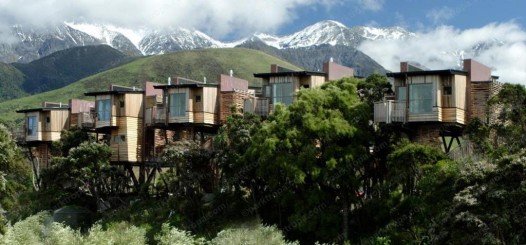 What for to build a tree house?
Of course, you can build a house on the ground. But people are always looking for harmony, a special sense of life, which allows you to feel comfortable in harmony with nature.
Hence houseboats can appear, hanging houses and other exotic things.
A tree house is not just a lifestyle, it is a special world view, which combines solicitous attitude and care about the world with joy to feel like part of the green forest, just growing with you.
In addition, to build a house on a tree, it is a beautiful childhood dream, that you want to give your children and grandchildren.
Even in ancient times people built dwellings in the branches of trees and hiding there from the attacks of wild animals.
Today, not only houses are building on trees, but also cafes, restaurants and even the whole hotels.
To book a cozy room in the house on a tree growing in the coniferous forest is not a cheap pleasure.
---
How to build a house on a tree without damaging the trees?
Modern construction techniques allow building entire engineering masterpieces in the trees, preserving all the vital functions of this amazing plant.
TV channel Animal Planet took a unique series "Tree houses" in 2014. Talented builder Pete Nelson revealed the theme of the construction on trees and opened up the secrets of design solutions.
Tree house is attached to the trunk by special patented fasteners that do not violate the natural processes of vegetation.
In addition, trees are almost always in motion by affecting of the wind, so fasteners of a foundation board of tree house have several degrees of freedom.
Every year we improve our technologies of building tree houses. We thank our foreign colleagues Pete Nelson and Michael Garnier for the experience of careful and ecological building.
---
 Children's play houses on trees.
Budget variant of building houses in the trees is a children's playhouse raised to a height of two meters.
Children's tree house can be equipped with a slide, swing, rope, mini climbing wall, sloping descent (trolley or zipline) and other joys of childhood.
Such a tree house can be an element of children's rope park or the own playground.
It is perfect for private homes, cottages or country cottages.
The joy of children at the sight of such a miracle several times exceeds all possible difficulties and costs in project implementation.
---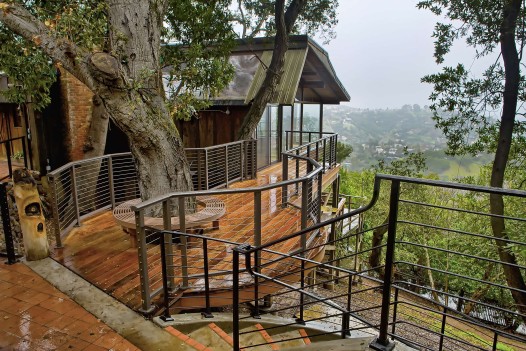 Dwelling houses on trees for children and adults.
The technology of building of a dwelling house on a tree has its own characteristics.
First of all this is the correct calculation of the weight of the future house and bearing load on the tree.
In addition, it is important to consider the wind load and the maximum amplitude of oscillation of tree trunks during gale force winds.
At building of houses on the trees we use pre-fabricated structure of a wooden house, which is close to the "Canadian" technology of frame-panel construction.
We insulate a tree house, supply it with communications, install windows and doors and carry out exterior and interior trimming.
Depending on the project of the house on a tree, and used materials we form construction budget.
A full house on a tree with a panoramic glass wall or roof will be for you and your children an unusual new world, where the forest and nature  are good neighbors and favorite guests.
---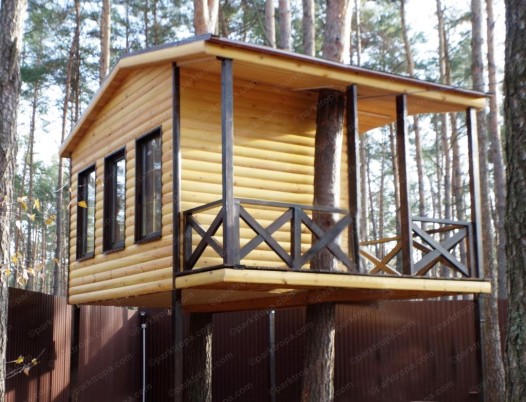 Model project of an apartment house on the tree from company "Tropa":
Base plate – wooden framework (larch).
walls – wooden frame, thermal insulation, wind and vapor barrier, waterproofing.
Roof – shingles, thermal insulation, waterproofing, wind and vapor barrier.
Finishing the floor – floorboard, thermal insulation, waterproofing, vapor barrier.
Exterior finishing – wood block-house.
Interior decoration – wood paneling.
Windows and doors – repoussage.
Terrace – terrace board, wooden railing and stairs.
Communication – electricity, water, sewage.
---
Factors of successful building on trees.
We like to build on the trees, carefully and solicitously treat each tree as a living creature.
The right choice of healthy trees and professional engineering calculation are the main ingredients for success in the implementation of such an ambitious task as building a house on a tree.
To love own job and to love nature, we believe, is the third main component at building a reliable and comfortable tree house.
We build for you professionally and gladly a low cost options of play houses and a real tree houses.
Tree house, built with love and reliable technologies, will serve its owners for many years.