Rock climbing walls «Walltopia»

Professional manufacturers of climbing walls.
Company Walltopia is one of world's the leading manufacturers of artificial surfaces for climbing walls.
Walltopia was founded in Bulgaria in 1996. Two young climbers, Ivaylo Penchev and Metin Muzov, have founded the company.
The company quickly developed into two independent, highly specialized companies: Walltopia and HRT.
Business of the company Walltopia is manufacturing climbing stands and climbing walls. The company HRT produces climbing hooks.
Walltopia offers the largest and most complete range of production technologies of climbing walls surfaces in the world, including Rocktopia, GRP Unique Triangles, Flat Underholds, RockIt and others.
For 13 years climbing walls were built by Walltopia in Germany, Turkey, South Korea, Bulgaria, the USA, Canada, Russia, Kazakhstan, Ukraine and other countries. Walltopia has 34 branches around the world and sells its products in 50 countries on six continents.
The largest climbing wall Walltopia is located in the United States. Its area is more than 5 thousand meters.
The highest wall Walltopia is located in Germany, Leipzig. Its height is 30 meters.
---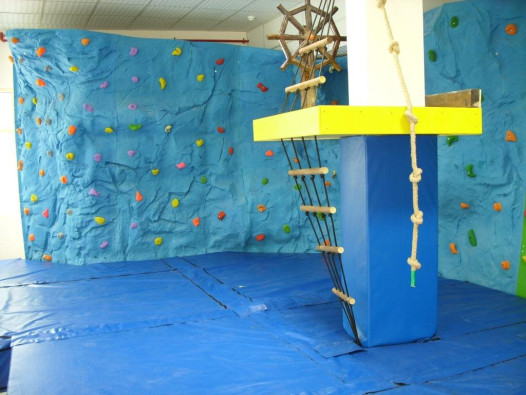 Turnkey solutions from Walltopia
The company produces a wide range of climbing panels for different types of climbing walls, offering its products to the following areas:
climbing walls for shopping centers
climbing walls for climbing centers
climbing walls for sports halls of schools and universities
climbing walls for hotels
climbing walls for adventure parks
climbing walls for children's camps
climbing walls for pools and water parks
climbing walls for children's playgrounds
---
Types of climbing panels Walltopia
1. Plywood panels of solid wood (birch)
flat plywood panels Walltopia
textured plywood panels Walltopia
climbing walls for shopping centers
plywood panels that mimic the rock relief
curved plywood Walltopia 2D
2. GRP panel
Fiberglass flat panel
Textured fiberglass panel
Fiberglass panels with smooth transitions without sharp corners
fiberglass panels that mimic the rock relief
3. Modular Rocktopia system on the principle of do it yourself. Perfectly simulates the natural rocky terrain and is easily installed with screws directly to the plywood panels of your climbing wall.
4. The polymer concrete Shell Soncrete
Accurately simulates rocky terrain .Not has seams. High durability. All types of coatings can be used in combination with each other.
Mobile climbing wall from Walltopia

Interesting business solution is offered by the company for the commercial use of climbing walls.
A specially designed model of the mobile climbing wall can be transported on a trailer of the car and mounted on any flat surface.
A special system of counterweights provides a stable position of the climbing wall under workload.
Built-in auto belay system for climbing lets you use all three rocky planes of climbing walls without additional instructors.
Here you can order any assortment of climbing panels Walltopia, receive technical advice and order the installation of the climbing wall from rock panels Walltopia «turnkey».
Order construction of elite climbing wall Walltopia with us!