Workout areas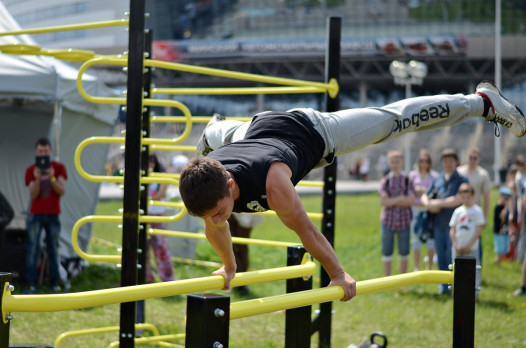 Street Workout – a new type of fitness.
Sports grounds Street Workout are a popular street fitness actively developing all over the world and turning into a separate sport.
Street workout combines elements of athletics and strength exercises with its own weight, aimed at developing endurance and muscle strength.
Street workout popularity among young people exists due to its accessibility and the growing priority of a healthy lifestyle.
Outdoor playgrounds for sports have been known since the days of the USSR. They were installed in the yards and school grounds, various athletic exercises were carried out there.
The older generation remembers the popular athletic "Sun" on the horizontal bar and standards on the icon TRP.
Today's Street Workout is a set of static gym equipment included into the international program of competitions and championships.
---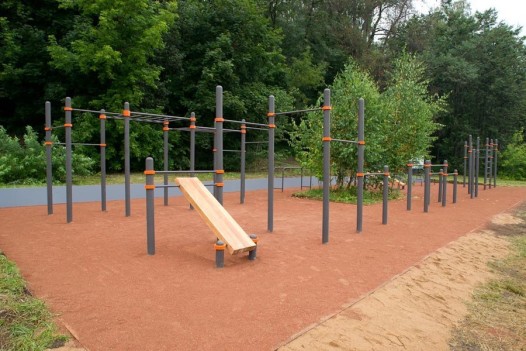 Classical elements of a sports ground for Workout:
Horizontal bars (circular, circular, curvilinear).
Horizontal bars (classic, cascades).
Benches to train the abdominal muscles.
The first international championship of Street Workout was held in August 2011 in Riga (Latvia).
Our compatriot Eugene Trump (Ukraine) has won the championship.
Since then the international competitions are held annually in different cities around the world.
---
 Application of Workout sites.
Sports complex Street Workout is an excellent choice for sport in the own territory of a country cottage, private house or villa.
Street Workout is popular in sports clubs, in children's sports camps, country residences and hotels with sports component.
Street Workout playgrounds fit perfectly for social projects and the promotion of a healthy way of life.
They perfectly fit into the urban amusement park, the district center or town beach.
High-grade playground Street Workout is a beautiful highlight of infrastructure that can decorate your city.
---
Features a sports ground Workout (standard project)
Basic elements: horizontal bar, Swedish wall, rung, parallel bars, rings, rope, benches for the press.
 Installation of supports – concreting.
Material – modular metal frame with powder coated.
 Coverage – rubber tile tartan.
You can buy or order any item of a sports ground Street Workout in our store.
---
Individual projects of sports grounds Workout
Construction of the playground Street Workout is possible for your individual project.
Our experts will offer you the best option for simulators Street Workout, qualitatively and in time will produce and assemble playground in your territory.
We will issue a technical passport for sports facility and provide one year for free warranty service.
Give joy of the available training outdoors for adults and children.
Build a playground Street Workout with us! Select equipment for Street Workout in our store!