Obstacle course
Children's games obstacle course.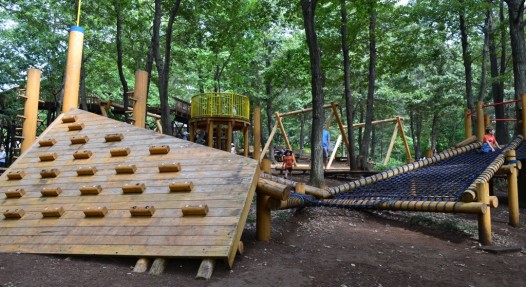 Children's obstacle course consists of a complex of game tasks, connected to each other. It is intended for children of preschool and early school age.
It may be an element of adventure rope park.
 It can be constructed separately as a non-standard playground.
No need for protective equipment.
It is suitable for children's sports and gaming competitions, group games outdoors.
It is filled with various obstacles, barriers or game pieces.
It is indispensable attribute of children's camp, sports camp sites and children's sports and playgrounds.
---
Tourist obstacle course.
It is a classic tourist passing rope obstacles at a time. The competition involved teams of 8-10 people. To evaluate the results, the general common rules for the passage of the stages are used. The main types of travel obstacles are the following: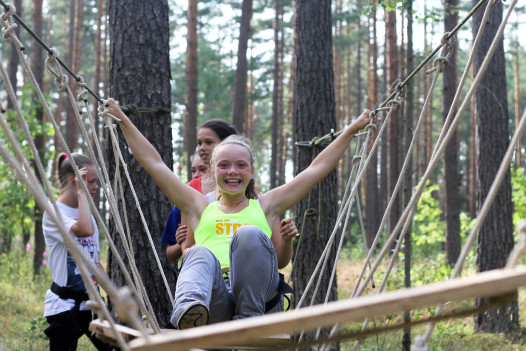 Suspension bridge. The simplest projectile. As a rule, it is set at the beginning of the band for "swing" in the literal and figurative sense, and is a wooden rope bridge with handrails.
Crossing. Any kind of overhead passage from one tree to another. The most popular tourist crossings include:
— "Butterfly" (two parallel ropes, connected in the middle)
— "Cobweb" (frequently located ropes, stretched horizontally, vertically and diagonally fastened / not fastened at the intersection)
—" Rhombus " (wooden frame in a rhombus with vertical beams suspended between the pillars, overcome back down).
—  "Log" (tree trunk, hanging on a clothesline with a handrail)
All elements of the tourist obstacle course are quickly mounted, removable and mobile. It can be installed anywhere and be used for corporate events, rope courses and team-building.
Tourist obstacle is popular course as a kind of outdoor activities, suitable for children's sports and gaming competitions and group games outdoors.
---
Military obstacle course.
Combined Arms Obstacle and military obstacle course for pupils are equipped according to the Guidelines for the construction and equipping of sports facilities in the military units and educational institutions.
The standard 200-meter military obstacle course includes the following set of obstacles:
 ditch
 maze
 fence with an inclined board
 destroyed bridge
 ruined staircase
 wall with two breaks
 well
 a communication passage
 trench
The military obstacle course for pupils is recommended for physical development and pre-conscription training of young people in schools and cadet schools. It differs from the combined arms obstacle course in a part simplification of the main obstacles in view of anthropometry of schoolchildren and replace of the last three elements (the well – communication passage – trench ") to"Single trench for shooting and throwing grenades. "
Combined Arms Obstacle is manufactured and installed in accordance with the Instruction on the organization of physical training of the National Guard of Ukraine and recommended for regular training of personnel operating units.
---
 Water obstacle course.
For active recreation on the water inflatable obstacle course is ideal.
Water attraction "Obstacle course" is assembled from several inflatable modules, which can be alternated or added with new items.
It turns out a kind of mini – water park, where you can hold children's sporting events or just to organize active young visitors.
Such water obstacle course can be placed on country camp sites, water recreation centers and hotel complexes equipped with their own beaches. Inflatable water rides are very popular and attract new customers.
We provide delivery and assembly of inflatable elements of the aquatic obstacle course of leading European manufacturers.
All equipment is certified according to international standards. Warranty is provided.
---