High rope park on supports
 Liberty of location.
Rope Park on artificial supports is suitable for those who want to install a sports theme park in the best places in terms of attendance.
Its main advantage is that you choose the place, not a place chooses you.
Here a rope park on artificial supports is universal.
The construction of rope park on supports allows any ground.
Park can be with the foundation and without foundation, it has no restrictions on height, the number of used poles and rope competitions.
As load-bearing structures, wooden or metal supports may be used.
Building technologies without foundation can significantly speed up the process and bypass the bureaucratic obstacles connected with the foundation construction.
---
Advantages of artificial supports.
When designing such a high ropes course, you are not limited in the choice of the number of competitions, configuration of rope routes, altitude and speed of the trolley, material for supports, as well as in many other things.
Rope park on artificial supports is more durable and does not require special care.
Properly designed and engineered the design of supports and connections in this attraction are a guarantee of its reliability.
Therefore, for a working project, we recommend planning organizations, projecting the objects of the highest category of complexity.
Difficulty level of each individual rope park on artificial supports is determined individually, according to the current regulations (DCTU-NB V.1.2-16: 2013).
---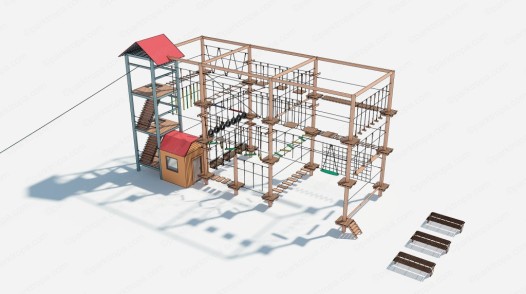 Quick return of investments.
Of course, the license design and artificial support increase building costs for a rope park.
However, when properly selected location, and good promotion of the amusement park, it will be the return of investments from one year to two years.
When using constructs without foundation, rope park is transformed into a mobile amusement park.
It easily can be transported and mounted at any popular place, down to the seaside promenade and close to the football stadium.
You can change the location of the mobile rope park depending on the season and demand for the attraction.
---
Placement options.
For indoor entertainment, including the SEC, rope park on artificial supports or hangers to the ceiling is suitable.
In open areas such adventure park is applicable wherever there is no way to build a ropes course in the trees.
These are ski centers, sports clubs, amusement parks, city and children's parks, recreation, beaches, water parks, golf clubs, country hotels and residences. Wherever you want.
For each of these objects ropes course on artificial supports can be a nice twist, bringing a good profit.