1
3 Mar 2014
Flying with birds speed – 100 km / h.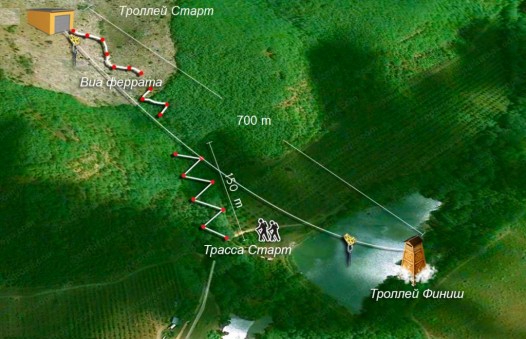 High-speed trolley park at Sevastopol is handed over to the customer and ready to receive its first visitors!
Trolley tracks 700 meters long are laid above the mountain lake at high altitude! Rock line Via ferrata and the rope park have already been working. More …
The project is unique in its technical and dynamic characteristics.
The difference in height on the slope reaches 95 meters! High speed at the start (up to 100 km / h) is offset by a comfortable braking at the finish. Such dynamic performance achieved by the fine adjustment of trolley lines, and dual braking system "TROPA tm", which our engineers have developed specifically for this project.
The challenge was to create a system of equivalent settlement of high speed moving object, based on the weight of the object, the strength and direction of wind.
We are proud to have coped with this task! By applying new engineering technology, we have developed and applied to patent a new brake system for the Zip line slopes "TROPA tm".
We thank our wonderful team from Mariupol!