From the Children's Health Center SLAVUTYCH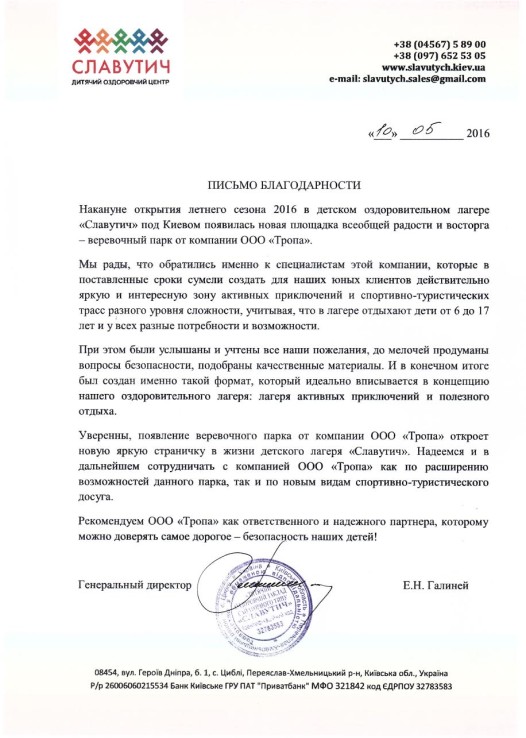 Children's
Health Center
SLAVUTYCH
THANKFUL  lETTER
By the opening of the new summer season 2016 in the children's recreation camp "Slavutych" was opened a new area of universal joy and delight – the ropes park from the company ADVENTURE PARKS TRAIL LLC.
We are pleased to apply to specialists in this company. They have created a bright and interesting zone of active adventures in the set period. Sports and tourist routes of different difficulty levels are suitable for children from 6 to 17 years.
All our wishes had heard and taken into account. Up to the last detail thought out security issues. Correct format was created to fit into the concept of our camp: the camp of active adventures and useful recreation.
We are sure , appearance rope park from ADVENTURE PARKS TRAIL LLC will open a new bright page in the life of the children's camp "Slavutych".
We hope to continue cooperation with the ADVENTURE PARKS TRAIL LLC for the empowerment of our park and on new types of sports and leisure tourism.
Recommended Company ADVENTURE PARKS TRAIL LLC as a responsible and reliable partner to whom you can entrust the most precious thing – the safety of our children!
General manager                                                                              E.N. Galiney