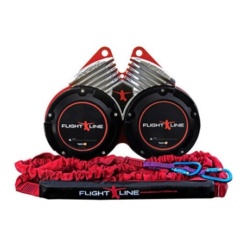 FlightLine Free Fall Device
Product ID: 4383
20 700

EUR
Quantity:
Order
| | |
| --- | --- |
| Dimensions | 615 x 457 x 234 mm (24.2 x 18 x 9.2 in) |
| Device Weight | 59 kg (130 lbs) |
| Rated Working Capacity | 34 to 113 kg (75 to 250 lbs) |
| Minimum Mounting Height | 18.5 m (60 ft) |
| Maximum Mounting Height | 23 m (75 ft) |
Designed for high throughput, FlightLine features an exhilarating, true free fall with a soft catch and eddy current magnetic braking for smooth and consistent braking, as well as staged universal braking system for a variety of user weights.
Extended Free Fall
Participants get plenty of air time with FlightLine, up to 11m (36 ft) of free fall! FlightLine is great as a standalone element or to add extra "wow" factor to an existing adventure experience.
High Throughput
The FlightLine retracts quickly and allows for high guest throughput. The throughput is higher than alternatives (e.g. bungee jumps) and offers the same thrilling free fall.
Staged Magnetic Braking
Head Rush's patented magnetic eddy current braking technology is extremely reliable and creates an amazingly soft catch. The dual braking system in FlightLine engages in two stages so the catch is smooth and gentle.
Multiple Mounting Configurations
An optional "jump-over" configuration allows participants to jump from a platform with the device mounted beneath them. This increases the free fall distance and ups the thrill factor. Two ripcord lengths allow additional customization of the FlightLine Free Fall experience.
Minimal Maintenance
Head Rush's patented magnetic eddy current braking technology is extremely reliable and provides a low cost of ownership. There are no contacting parts in the braking system, and there is less wear because the braking does not involve any friction.
Modular & Compact
Add extreme thrills in an amazingly small footprint. FlightLine requires a platform or tower at least 18.5m (60 ft) tall, but then the modular device is easy to install and operate.