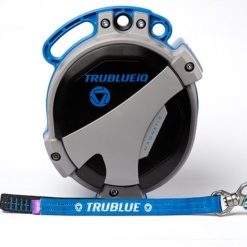 TRUBLUE iQ Auto Belay
Product ID: 4400
3 700

EUR
Quantity:
Order
| | |
| --- | --- |
| Dimensions | 370 x 280 x 198 mm (14.5 x 11 x 7.7 in) |
| Weight | iQ LT: 15 kg (33 lbs) iQ XL: 19 kg (41 lbs) |
| Climber Weight Range |  10-150 kg (22-330 lbs) |
| Minimum Mounting Height | LT: 4.5 m (14.8 ft) XL: 12 m (39.4 ft) |
| Maximum Mounting Height | LT: 12.5 m (41 ft) XL: 20 m (65.6ft) |
| Maximum Landing Velocity | 2.0 m/s (6.5 ft/s) |
| Temperature Range | -4°C to 60°C (25°F to 140°F) |
The most tested and trusted auto belay in the world just got even better. Utilizing the same patented magnetic braking that climbers love, the next generation TRUBLUE iQ Auto Belay is more durable and lighter than ever before. Engineered with the future in mind, it is also upgrade-ready. Don't miss out on the next big climbing innovation — future-proof your business today with TRUBLUE iQ.
The TRUBLUE™ iQ Auto Belay is the next generation of indoor and outdoor climbing wall auto belays. Designed for the climbing industry, thousands of TRUBLUEs are in use around the world in climbing gyms, ropes courses, family entertainment centers and more.
TRUBLUE's self-regulating magnetic braking system is the result of years of research, development, and testing. Our auto belay is designed for climbers and engineered for safety. TRUBLUE Auto Belays are engineered to meet the strictest safety standards, including extensive testing by one of the leading certification bodies in the world, TÜV/SÜD Product Service GmbH.
The TRUBLUE is available in two webbing lengths:
41 ft (12.5 m)
65 ft (20 m)
Safety
Meets international safety standards: TRUBLUE is designed for climbers and engineered for safety. We engineered TRUBLUE to meet international safety standards for fall arrest devices.
Extensive safety testing: For over four years, the TRUBLUE auto belay has undergone extensive safety testing by an ISO 17025 accredited company specializing in product testing.
Advanced Technology
Smooth descent: The self-regulating braking system has minimal variation in descent rate across the user weight range.
Reliability with no sacrificial wear parts: Non-contacting magnetic technology.
Designed for indoor or outdoor use.
Minimal maintenance and low cost of ownership.
Available with four webbing connection types to fit your facility's needs.