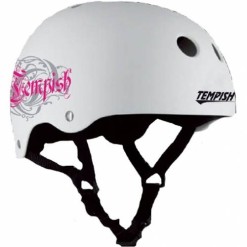 Helmet Tempish Skillet White M
Product ID: 10200108(WH)/M
| | |
| --- | --- |
| Brand | TEMPISH - Czech Republic |
| Mounting System | Safety buckle and adjustable strap |
| Adjusting the Head circumference | yes |
| External Materia | Plastic, Foam, Inner Material: poly |
Delivery
Delivery is carried out by the transport service DHL. Worldwide delivery in 220 countries. Shipping is paid separately.
Warranty & Certification(s)
All products have international certificates and a warranty card from the manufacturer.
Whether you are a professional or a beginner, to ensure your safety helmet is an important element of your equipment for sports with high risk as skating, aggressive skating, inline skates, cycling, etc.
It has been proven that the helmet decreases the risk of head injury by 90% and protects the head from damage and injury from shocks during accidents and falling.
Safety helmet SKILLET BLACK made by TEMPISH has been designed to give you maximum security in a fall or collision assuming and reducing the force of impact.
Made of solid hardened plastic, which provides high strength, low weight and excellent protection for the head. The outer part is resistant to UV rays. It is equipped with ventilation holes that let in fresh air and helps to regulate the temperature, so you feel good regardless of conditions.
The inner part is soft and comfortable with foam cover.
Adjustable tightening belt and adjusting screw that allow perfect positioning and ensure that the helmet will stay safe and comfortable on your head.
modern and stylish design
lightweight
 ventilation holes for better temperature comfort
 excellent aerodynamics achieved by special design
 buckle that provides quick put in and removing the helmet
 chin adjustable buckle
 adjustable strap and buckle are laboratory tested for durability and impact of falling
 low temperature resistant
 UV resistant
 perfect fit