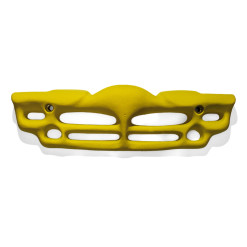 Ukrholds Fingerboard Wide
Product ID: 2534
| | |
| --- | --- |
| Category of use | climbing walls, stands |
| Ширина (mm) | 600 |
| Type | kampusbordy |
COLOR: MULTI COLOR
Delivery
Delivery is carried out by the transport service DHL. Worldwide delivery in 220 countries. Shipping is paid separately.
Warranty & Certification(s)
All products have international certificates and a warranty card from the manufacturer.
Fingerboard Ukrholds Fingerboard Wide – it is an excellent training board for climbing and bouldering. Universal form and unpretentious coloring make it a harmonious part of the interior in the gym and at home. Especially in demand this board in the winter, when there is no opportunity to climb on natural terrain.
Special multi-purpose board design will meet the needs of even the most demanding athletes. It offers hooks imitation of large and medium sizes, has several pockets allow passive exercise enough. Training board Ukrholds Fingerboard is a perfect companion for both the beginner and for the professional athlete – for all those who want to hone their skills climbing hourly.
Features of the simulator:
– basic diameter mounting bolts М10
– It allows you to stretch your hands before a workout or competition
– effective for home workouts
Fixing by two bolts 50mm.
Available colors: orange, yellow, green, cyan, blue, purple, beige, white, dark gray.
Features of operation:
FASTENERS
– Always secure the hooks on a level surface. Avoid areas with raised zones
– используйте для крепления болты М10 цилиндрической головкой под внутренний шестигранник
– If possible, use the mounting holes for additional fastening screws, provided some hooked
All products Ukrholds been tested according to European standards EN 12572-3: 2008 and received a certificate of conformity.
| | |
| --- | --- |
| Category of use | climbing walls, stands |
| Width (mm) | 600 |
| Type | kampusbordy |