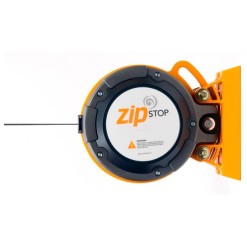 ZIPSTOP ZIP LINE BRAKE
Product ID: 2138
4 500

EUR
Quantity:
Order
| | |
| --- | --- |
| Rated Working Capacity | 15 to 150 kg |
| Breaking load | 15.6 kN |
| Rated Working Velocity | 6—36 kph |
Delivery
Delivery is carried out by the transport service DHL. Worldwide delivery in 220 countries. Shipping is paid separately.
Warranty & Certification(s)
All products have international certificates and a warranty card from the manufacturer.
The best brake for your zip line, zipSTOP Zip Line Brake uses a self-regulating eddy current magnetic braking system to brake zip line riders smoothly, comfortably, and consistently.
The zipSTOP is best suited for rider arrival speeds less than 20 mph or over 40 mph. (If your zip line is between 15-40 mph, please consider the zipSTOP IR instead).
The assembly includes:
zipSTOP Zip Line Brake device
Brake trolley
Mounting bracket
Key zipSTOP Benefits:
Eddy current braking technology adjusts automatically to ensure a smooth rider deceleration.
Allows for a wide variety of rider weights and speeds.
Automatically resets after each rider, minimizing human error.
Helps mitigate risk by removing human error from the rider or guides.
Low cost of ownership, including an annual recertification at $399 and replacement of sacrificial wear parts.
Able to withstand outdoor environments and work consistently in any conditions.
| | |
| --- | --- |
| Rated Working Capacity | 15 to 150 kg |
| Device Weight | 23.5 kg (52 lbs) |
| Rated Working Velocity | 6 to 36 kph |
| Type | Nylon/Spectra Webbing |
| Breaking load | 15.6 kN |