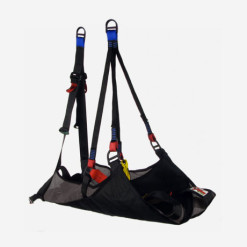 skyTECH Prone (Superman) Harness
Product ID: 2047
skyTECH Prone Harness is a revolutionary zipline harness engineered to enjoy the thrill of the ride in horizontal forward facing flights with high speeds and big impacts. It's designed to work with skyTECH Launcher and Prone Rocket Trolley (excluding cross bar) reaching speeds in excess of 80 km/h (50 m/h) with a safe and secure stop.
This design allows flyers to comfortably walk in the harness for hours at a time, thus allowing them to walk up to the launch deck ready to go saving multiple time consuming steps. skyTECH Prone Rocket Trolley is locked into skyTECH Launcher and all the guide has to do is attach the harnesses dual point integrated slings. Once attached, the flyer simply leans forward, and with some quick adjustments, they're ready to fly. This setup will triple volumes on existing prone sites.
Prone harnesses are notoriously known for their discomfort, but skyTECH Prone Harness is incredibly plush and is quickly earning the reputation for comfort just like it's skyTECH seated predecessors.
Design Features
Robust Mesh Construction
Long life span, easy to clean with very low maintenance
High Grade Hardware
Load rated aluminum quick release buckles
Load rated D-Ring attachment points
Steel Adjustor Buckles
Additional Security
Shoulder straps securely hold flyers in horizontal position
Color coded shoulder straps to correct release buckles reduce errors
Integrated sling design for connection points
Dual Point Attachment for Ease of Operation
Integrated slings with D-Ring attachments allow fast connection to trolley
Flyer Comfort
Harness is completely padded for comfort throughout duration of flight
Light weight, comfortable & goes on / off with ease
Light weight leg loops ensure comfort & ease of movement
Speed of Operation
Flyer volume increases 200% due to:
→ Flyer ready to go in harness before arriving at takeoff deck
→ Integrated sling design for rapid trolley attachment
→ Quick strap adjustments
→ Launcher & trolley set up / release design for rapid throughput
= Increased Profits
Sizes
Large (black) – Adults
Minimum user weight 150 lbs (68 kg) / Maximum user weight 275 lbs (125 kg)
Minimum user height: 5'6" (1.68 m)
Medium (red) – Adults
Minimum user weight 100 lbs (45 kg) / Maximum user weight 220 lbs (100 kg)
Minimum user height: 5'0" (1.52 m)
Small (green) – Children & Petite Adults
Minimum user weight 50 lbs (23 kg) / Maximum user weight 150 lbs (68 kg)
Minimum user height: 4'0" (1.22 m)