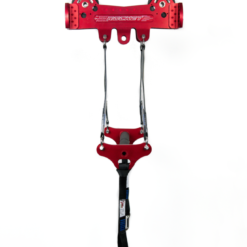 skyTECH Rocket – Seated M8 (8 Magnets) Zipline Braking Trolley
Product ID: 2040
2 020

EUR
Quantity:
Order
The skyTECH Jet is the ultimate freeride commercial trolley for both long and short zipline systems with lower impacts. Packed with our most advanced technology, it's engineered for safety, comfort, durability and FUN! It can reach speeds up to 80 km/h (50 m/h).
skyTECH Jet's single point cross bar, in combination with skyTECH Twin-Harness, allows flyers the adventure of twisting and turning throughout flight. Their safety is ensured with the dual point attachment plus a secondary fall arrest.
The trolleys are fabricated in anodized aluminum and have a life expectancy of approximately 5 years. High speed polyurethane sheaves, with sealed bearings, provide a quiet flight and run without any metal friction – preventing cable replacements after heavy volumes.
Design Features
Extremely Robust 6061 Anodized Aluminum Construction
Life Span of Approx. 5 Years
Anodized, with Stainless Steel hardware for usage in all weather conditions
All numbered, dated, tested & available in any color
High Speed Polyurethane Sheaves with Sealed Bearings
Provides years of quiet, trouble free usage
Extremely low wear on cables with no metal-to-metal friction – Extends cable life 500%
Multiple sizes to fit 3/4" & 7/8" Cables
Optimised for Easy Operation
Locks into skyTECH Launcher for safe, rapid flyer setup & release
Locks into skyTECH Catch Block to engage skyTECH Spring Brake & / or ZipStop
Reversible operation makes it impossible to install incorrectly on line
Enhanced Safety
Secondary fall arrest attachment point for skyTECH Twin-Harness
Dual point harness attachments for safer braking