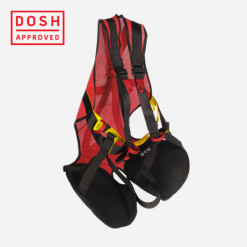 skyTECH Twin-Harness
Product ID: 2044
Delivery
Delivery is carried out by the transport service DHL. Worldwide delivery in 220 countries. Shipping is paid separately.
Warranty & Certification(s)
All products have international certificates and a warranty card from the manufacturer.
skyTECH Twin-Harness is the ONLY DOSH APPROVED two point harness in commercial production. The first forward facing harness engineered for speed allowing flyers to enjoy the thrill of the ride with the security of a safe high speed stop. A revolutionary zipline harness, engineered to work with skyTECH Rocket, Jet and Turbine Trolleys – flying at speeds in excess of 80 km/h (50 m/h) with high speed braking. It's dual point attachment keeps flyers in a hands free, forward facing, uni-directional flight allowing safe brake entries with minimal upswing every time.
The skyTECH Twin-Harness is engineered for ziplining, whereas most operations use off the shelf climbing harnesses. Other than the skyTECH Single-Point Harness, it's the only zipline harness with a rear D-Ring attachment for fall restraint. It has the well-deserved reputation of being the industry's most comfortable harness. The design is based on traditional paragliding harnesses meant to be sat in for hours at a time.
Design Features
Robust Mesh Construction
Long life span, easy to clean with very low maintenance
High Grade Hardware
Load rated aluminum quick release buckle
Load rated D-Ring attachment
Custom Austri Alpin carabiners
Steel Adjustor Buckles
Additional Security
Rear D-Ring attachment point for fall restraint on takeoff & landing decks
Chest strap
Dual Point Attachments for Forward Facing Flights
Minimizes upswing & injuries during high speed braking
Flyer Comfort
Leg & back support for comfort throughout duration of flight
Light weight, comfortable & goes on / off with ease
One easy leg adjustment preventing awkward moments between guests & guides
Speed of Operation
Flyer volume increases 10% with quick strap adjustments
Increased throughput & profits
Sizes
Large (black) – Adults
Minimum user weight 150 lbs (68 kg) / Maximum user weight 275 lbs (125 kg)
Minimum user height: 5'6" (1.68 m)
Medium (red) – Adults
Minimum user weight 100 lbs (45 kg) / Maximum user weight 220 lbs (100 kg)
Minimum user height: 5'0" (1.52 m)
Small (green) – Children & Petite Adults
Minimum user weight 50 lbs (23 kg) / Maximum user weight 150 lbs (68 kg)
Minimum user height: 4'0" (1.22 m)
Skyline Zipline HarnessSkyline Zipline HarnessSkyline Zipline Harness