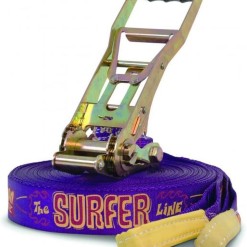 KITS SLACKLINES Gibbon SURFER LINE X13
Product ID: 2072
| | |
| --- | --- |
| total length | 30 m |
| width | 50mm |
| strength | 40 kN |
Delivery
Delivery is carried out by the transport service DHL. Worldwide delivery in 220 countries. Shipping is paid separately.
Warranty & Certification(s)
All products have international certificates and a warranty card from the manufacturer.
A Surfer Line oferece uma dinâmica especial para qualquer slackliner avançado. Com o comprimento total de 30 m e a mesma tecnologia da Jib Line. A performance desta fita não tem comparação ccom nenhuma outra se for usada como trickline, waterline ou longline. Acompanha uma exclusiva catraca alongada.
| | |
| --- | --- |
| weight | 3,5 kg |
| width | 50 mm |
| total length | 30 m |
| strength | 40 kN |
| packing size (сm.) | 38 x 31 x 7 |