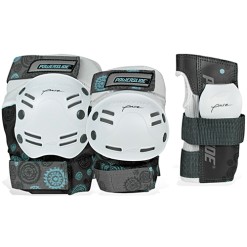 Powerslide Standard Pure Women Protective Gear
Product ID: 4040333347539
Delivery
Delivery is carried out by the transport service DHL. Worldwide delivery in 220 countries. Shipping is paid separately.
Warranty & Certification(s)
All products have international certificates and a warranty card from the manufacturer.
KNEE/ELBOWPowerslide "Standard" knee and elbow pads have an anatomically shaped body for perfect and snug fit. The big and flat caps provide the skater, especially for the beginners, a big sliding area that makes it easy to control the slides in case of a fall. High quality dual density EVA foam, an anatomically formed knee donut as well as a smooth and soft lining material give the skaters all they need for their daily skating: protection and comfort. The outside material of the pads is made of very durable 600D nylon. The pads feature a SBR padded double strap closure system. The open back of the protector also offers a comfortable climate control of the protector.
WRISTGUARD
This wristguard features two big size anatomically shaped composite splints, which offers maximum protection when you slide and fall. The mesh material offers air cirulation to optimize the comfort during skating. The triple strap fixation keeps the wristguard firmly on the user's hand.