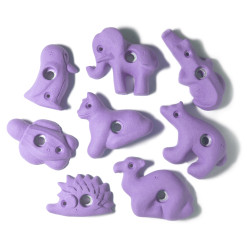 Ukrholds Baby 1
Product ID: 2545
| | |
| --- | --- |
| Number of hooks in set | 8 |
| Size | M - ML |
| Type | hooks |
Color: MULTI COLOR
Delivery
Delivery is carried out by the transport service DHL. Worldwide delivery in 220 countries. Shipping is paid separately.
Warranty & Certification(s)
All products have international certificates and a warranty card from the manufacturer.
Set hooks Ukrholds Baby 1 – it is interesting and recognizable clues in the form of small animals for little climbers. Sometimes a little confused about the athletes and the colors can become confused when a large number of hooks, but you will agree – is difficult to mix elephant with hedgehog. That is why a set of hooks is ideal for children's rock climbing walls, as it not only increases the interest in climbing among children, but also simplifies the method of training.
Set hooks Ukrholds Baby 1 contains 8 hooks size M-ML in the form of animals, which means that even the most petty skalolaziku will be convenient to hold on to their hand.
Properties set:
– Hook the optimal use on planes with a positive slope or close to the vertical
– the hooks are suitable for small overhangs (20 degrees)
– fastening hooks made bolt diameter M10 with cylindrical head screws. As an auxiliary fixture can be used on wood screws 3.5-4.2 mm
-hooks are ideal for children and beginners
All products Ukrholds been tested according to European standards EN 12572-3: 2008 and received a certificate of conformity.
| | |
| --- | --- |
| Category of use | climbing walls, stands |
| Number of hooks in set | 8 |
| Suze | M – ML |
| Type | hooks |